Volvo P 1800
Volvo P 1800 was a two-door coupe manufactured by Volvo in the 1960s/1970s.
There were three variants: S, E and ES; the ES denotes the wagon version. The engine was initially 1780 ccm, then increased to 1986 ccm.
The first roughly 6000 cars were built by the British manufacturer Jensen, from 1961 to 1963. Volvo then ended the contract with Jensen and moved production to Sweden, marking the cars produced in Sweden with the letter S.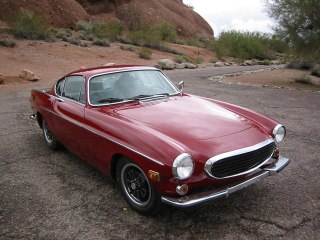 Specifications
Car
Brand
Volvo
Model
P 1800
Variant
E
Model year
1971
Chassis
coupe
Engine
Capacity
1986 ccm
Power
95 kW
Automatic transmission
Manual air conditioning
Model years
1961
1962
1963
1964
1965
1966
1967
1968
1969
1970
1971
1972
1973