Opel GT (2007)
Opel GT is a soft-top two-seater cabrio produced by GM. It features rear-wheel drive and offers rather impressive performance; while it comes with less than practical luggage compartment.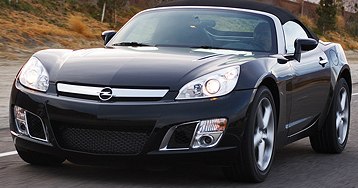 The GT is not a real Opel product. General Motors has already been selling it for years named as Pontiac Solstice and Saturn Sky in the US.
The luggage compartment of the GT is 60 liters. It does not have a regular shape; it's not easy to pack it up.
The opened top is placed in the trunk (ie. not into a separate storage); baggage should be put below or behind it.
The steering wheel can only be adjusted up and down (not in the forward/back direction).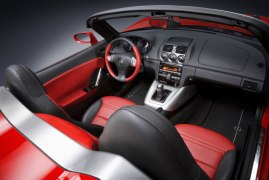 The turbo pressure builds up slowly but continuously; there's no large turbo hole but no big kick either. Compression is relatively low at 9.2:1.
The car comes with a sperr differential. The electronic traction control can be set up in three levels (on, low or off).
The car is priced relatively low considering its performance. The price level is similar to Mazda MX5.
Specification
Car
Make
Opel
Model
GT
Layout
Body type
roadster
Doors
2
Seats
2
Engine layout
front engine
Drive layout
rear wheel drive
Feature
Sperr differential
Feature
Electronic traction control
Top
soft top
Engine
Model
Ecotec
Capacity
2000 ccm
Feature
Turbo
Feature
direct injection
Power
264 hp
Compression
9.2
Performance
Acceleration
5.7 s for 0-100 km/h
Product line
Related: Pontiac Solstice
Related: Saturn Sky