Maserati Ghibli (produced in the 1960s-1970s)
Maserati Ghibli is a beautifully styled front-engined 2-door coupe produced by Maserati between 1966 and 1973.
A total of 1274 Ghiblis were built - including 125 spyders (open-top models). This small production number, coupled with the performance and luxury of the model makes Ghibli a highly collectible supercar.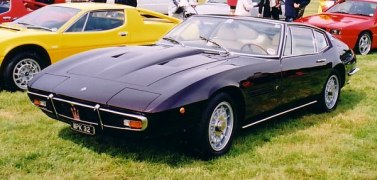 Specifications
Car
Brand
Maserati
Model
Ghibli
Chassis
Body type
Coupe
Seats
2+2
Arrangement
Engine arrangement
Front engine
Drive arrangement
Rear wheel drive
Chassis
Welded tubular chassis
Engine
Type
Otto
Arrangement
V8 at 90 degrees
Capacity
4719 ccm
Bore
93.9 mm
Power
330 bhp at 5000 rpm
Compression ratio
8.5:1
Distribution
Four overhead camshafts
Valves
2 valves/cylinder
Induction system
carburettor
Induction type
Four twin-choke 40 DCNL/5 Weber carburettors
Lubrification
Forced with pressure pump
Transmission
Differential
Salisbury 'live' axle
Clutch
Dry single plate with flexible coupling and hydraulic control
Gearbox
5 speed and reverse
Suspension
Front suspension
Independent wheels, coil-springs,
telescopic shock-absorbers and anti-roll bar
Rear suspension
Rigid axle, semi-elliptical leaf-springs,
telescopic shock-absorbers and anti-roll bar
Brakes
Front
disc
Rear
disc
Note
Hydraulically operated disc brakes on all wheels
Dimensions
Wheelbase
2550 mm
Front wheel tracks
1440 mm
Rear wheel tracks
1400 mm
Tyres
Front
205x15
Rear
205x16
Dry weight
1200 kg
Performance
Top speed
270 km/h
Rewised model (1970 and on)
Engine
Capacity
4930 ccm
Bore
93.9 mm
Stroke
89 mm
Power
335 bhp at 5500 rpm
Compression ratio
8.5:1
Tyres
Front
215x15
Rear
215x15
Performance
Top speed
280 km/h
Model years
1966
1967
1968
1969
1970
1971
1972
1973
Related models