BMW Z1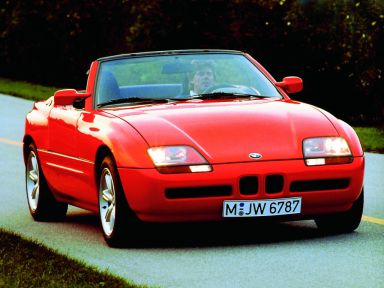 BMW Z1 is a street sport car produced by BMW. The Z1 is a two-seater with a roofless (soft-top) chassis.
The base frame is made from galvanised steel. The body panels are made from composite.
The car is built with a five-gear manual (standard) transmission. The engine and transmission is the same as in BMW E30 325. The front suspension is the modified version of the E30 front suspension. The rear suspension was designed for Z1.
The car features a special door design. Doors electrically descend into and lift from the side sills.
Specification
Car
Brand
BMW
Model
Z1
Chassis
Body type
roadster
Seats
2
Top
soft top
Dimensions
Empty weight
1250 kg
Total weight
1460 kg
Permitted front axle load
665 kg
Permitted rear axle load
820 kg
Engine
Type
Otto
Subtype
inline 6
Capacity
2494 ccm
Stroke
75 mm
Bore
84 mm
Power
125 kW (170 bhp) at 5800 rpm
Torque
222 Nm (164 ft-lb) at 4300 rpm
Compression ratio
8.8 : 1
fue
regular unleaded
Transmission
1
3.83
2
2.20
3
1.40
4
1.00
5
0.81
R
3.46
Final drive ratio
3.64
Performance
Drag coefficient
0.36 cd
Top speed
225 km/h
Acceleration
7.9 s for 0-100 km/h
Standing start km
28.8 s
Flexibility
(80-120 km/h in 4th gear)
9.0 s
Fuel consumption
90 km/h
6.8 l/100km
120 km/h
8.4 l/100km
City
12.9 l/100km
Average
9.4 l/100km
Wheels
Tyre dimensions
225/45 ZR 16
Wheel dimensions
71/2Jx16
Material
Light-alloy
Electrical system
Battery capacity
65 Ah
Alternator output
80 A, 1120 W
These data apply to the models built without a catalytic converter.