Jensen Interceptor
Jensen Interceptor is a British sports car that was quite famous in the 1970s. The car came with huge 6276 or 7212 ccm (383 or 440 cubic inch) V-8 engines. The styling is the work of the Italian Carrozzeria Touring. Only 6175 Jensen Interceptors were ever produced.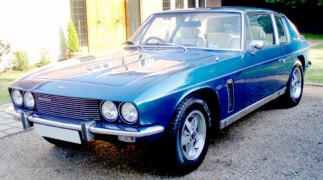 Specifications
Car
Make
Jensen
Model
Interceptor
General
Body style
coupe
Doors
2
Seats
4
Engine
Type
Otto
Layout
V-8
Capacity
7212 ccm
Transmission
Transmission
4 speed manual
Fuel
Fuel capacity
73 l
Dimensions
Wheelbase
2667 mm
Length
4724 mm
Width
1752 mm
Height
1346 mm
Curb weight
1588 kg
Options
Engine:
Transmission:
4 speed manual
3 speed automatic
Variants
Saloon
Fergusson Formula (FF)
Six Pack (SP)
Convertible
Coupe
Most cars were of the variant "saloon", a two-door four-seater that would likely be called a coupe on today's terms. The variant called "coupe" was, in turn a sedan with a flat roof, sharply angled rear windows and a flat trunk. The "coupe" actually offered more headroom in the rear seats than the "saloon".
Model years
1966
1967
1968
1969
1970
1971
1972
1973
1974
1975
1976
Model history