Opel Tigra TwinTop (2004)
The Opel Tigra TwinTop is a two-seater coupe convertible (CC) model by Opel. The car is based on the Opel Corsa C's technology. As for a convertible, the Tigra Twin Top offers a remarkable luggage space of 440 liters. The TwinTop is only for two people, while its predecessor, the first generation Tigra could (at least in theory) carry four passengers.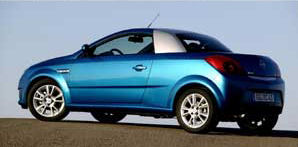 The car is available with three engines:
1.4 L gasoline engine (Twinport)
1.8 L gasoline engine (Ecotec)
1.3 L diesel engine (Multijet)
All models are equipped with a 5-speed manual transmission, but the 1.4 version is also available with a 5-speed easytronic.
Specifications
Car
Make
Opel
Model
Tigra
Version
1.4 16V
Model year
2004
Layout
Body type
coupe convertible
Doors
2
Seats
2
Engine layout
front engine
Drive layout
front wheel drive
Top
convertible
Engine
Model
Twinport
Type
Otto
Layout
Inline 4
Capacity
1364 ccm
Feature
Turbo
Feature
direct injection
Power
66 kW
Transmission
Type
5-gear manual
Dimensions
Weight
1475 kg
Storage capacity
440 l
Performance
Top speed
180 km/h
1.8 Ecotec
Engine
Model
Ecotec
Capacity
1800 ccm
Power
92 kW
Performance
Top speed
204 km/h
1.3 CDTI
Engine
Model
Multijet
Feature
CDTI
Fuel
diesel
Capacity
1300 ccm
Power
55 kW
Performance
Top speed
167 km/h
Product line
Model years