Spyker D8 Peking to Paris
Spyker D8 Peking to Paris is an SUV/sportscar built by Spyker. The D8 is a crossover between sportscars and off-road cars, built to be suitable for long-distance touring. The model has a taller build and is also equipped with a larger fuel tank than most other Spyker models - a helpful feature for touring. The name is derived from the well-known motor touring challenge. The original Peking to Paris race was held in 1907 and a Spyker car achieved the 2nd place.
When introduced at the 2006 Geneva Motor Show, the car's original name was D12 as it was to be built with an Audi 6.0 liter V12. However the designers now switched to a V8 - hence the new model code.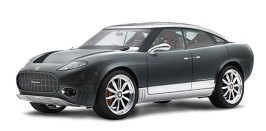 Specifications
Car
Brand
Spyker
Model
D8 Peking to Paris
Chassis
Body type
SUV
Doors
4
Seats
4
Engine
Capacity
6200 ccm
Power
400 kW
Torque
750 Nm
Maximal revolutions
6500 rpm
Others
Fuel tank
100 l
Performance
Top speed
270 km/h
Acceleration (0-100 km/h)
5.5 s
Dimensions
Length
4950 mm
Width
2000 mm
Wheelbase
2855 mm
Front track
1655 mm
Rear track
1665 mm
Height
1775 mm
Weight
1850 kg
Related