Lancia Y10
Lancia Y10 was a small car manufactured by FIAT between 1985 and 1996. The car was branded Autobianchi Y10 inside Italy.
The car shares its platform with the FIAT Panda.
It's most remarkable visual characteristic is the black vertical rear door - which was often in sharp contrast with the body's exterior color.
The car was positioned as a stylish/elegant mini and it was also designed to appeal to women.
The turbo engine used the same turbocharger by IHI, Japan as the Maserati Biturbo (though the latter had two).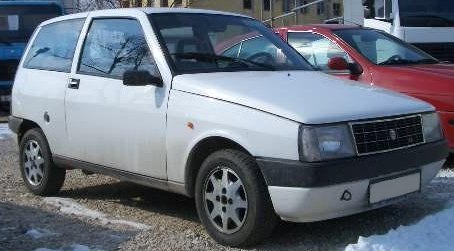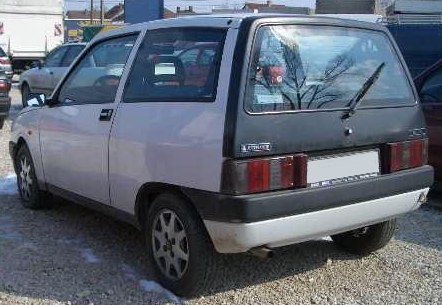 Specifications
Car
Brand
Lancia
Model
Y10
General
Chassis
Hatchback
Doors
3 door
Drive
Front wheel drive
Engine
Front engine
Air drag
0.31 cd
Engine
Type
Otto
Layout
Inline 4
Capacity
1049 ccm
Power
62.5 kW (85 bph) at 5750 rpm
Torque
90 lb.ft. at 2750 rpm
Turbo charger
IHI (Japan)
Max. rpm
6200 rpm
Power/weight
109 bhp/ton
Dimensions
Wheelbase
2159 mm
Length
3390 mm
Width
1510 mm
Height
1420 mm
Curb weight
780 kg
Options:
4WD
Continuously variable transmission (CVT)
Engines:
1: 1.0 gasoline
1 i: 1.0 gasoline
1.1 i: 1.1 gasoline
1.3 GT ie: 1300 ccm, 56 kW
1.05 Turbo: 1049 ccm, 62.5 kW
Tyres:
135 SR 13
155/70 R 13
155 HR 13
155/70 HR 13
Model Years
1985
1986
1987
1988
1989
1990
1991
1992
1993
1994
1995
1996
Product line
Predecessor: Autobianchi A112
Successor: Lancia Y