BMW M1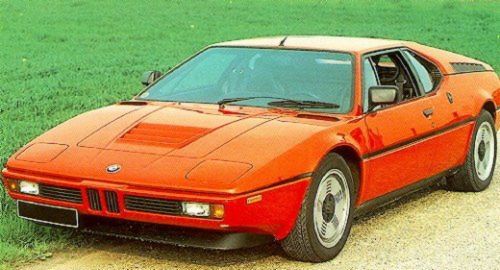 BMW M1 is a sport coupe built between 1978 and 1981.
Designed by Giorgio Giugiaro, the car was built by the motorsport division of BMW. The street version models were built to satisfy the race homologation requirements.
BMW was planning to let Lamborghini to work out the details of the car's chassis, assemble prototypes and manufacture the vehicles. Due to Lamborghini's financial crisis, BMW finally insourced production. A total of 455 production cars were built.
Specification
Car
Brand
BMW
Model
Z1
Chassis
Body style
Coupe
Engine arrangement
Rear-mid engine
Drive arrangement
Rear-wheel drive
Doors
2
Seats
2
Engine
Type
Otto
Arrangement
Inline 6
Capacity
3453 cc
Valves
4 valves/cylinder
Performance
Power
204 kW (277 bhp)
Top speed
260 km/h (162 mph)
Notes:
Up to 850 bhp was possible by turbocharging
Model years